Introduction to Silver Clay with Toni Peers
Explore your enjoyment of alchemy, of making the improbable with silver clay in his class with tutor Toni Peers. You will be introduced to the simple yet effective techniques of working fine silver in a mouldable clay form, and to the options in firing your pieces. You can create textures and patterns as wild as your imagination.  You will learn the foundation skills necessary to produce some examples to take home and add to your collection. Suitable for complete beginners and a great addition to other jewellery making techniques. You will make at least 2 pieces that can then be turned into necklaces, earrings, pendants or charms with the addition of jump rings, chains and metal findings. Silver clay suitable to make two pieces is included in the course fee. Extra silver clay can be purchased on the day if required. Only 8 spaces available on this session, 10am until 4pm.
Please read the full Terms of Booking, and particularly the REFUNDS policy within those terms BEFORE making your booking.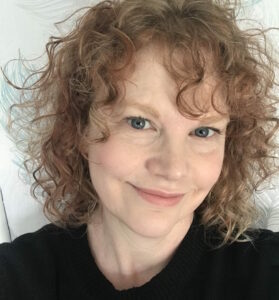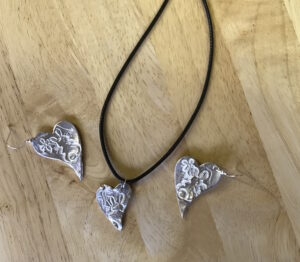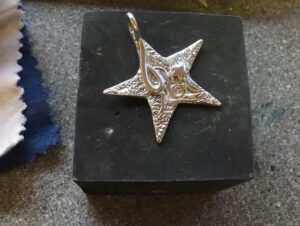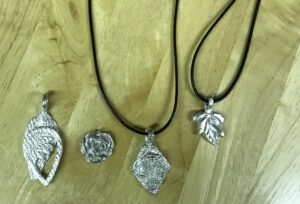 Silver clay feels like alchemy, at first it is clay like and then once fired you have hallmarkable quality silver. The clay contains a binder and fine silver particles, when heat is applied, the magic happens – the binder burns away, and the silver particles sinter together to create a fine silver piece. The silver particles have been recycled which means you can make unique eco-friendly jewellery, with a clear conscience.  Join us on this one-day class where we will make one or two pieces of silver clay jewellery using this magical medium.
We will start out by creating a prototype to enable us to explore textures, moulds, and cutters suitable for silver clay. If you have any textures, such as herbs, leaves or even wallpaper samples that you wish to try, please feel free to bring those along, although there will be a broad selection available to use on the day.
You will also consider whether to make your own bail, or how to create a hole to attach findings. Please bring your own silver chains, or ear wires as these will not be supplied.
During the class we will be using 10g of silver clay (fine silver), which should be enough to make 1 to 2 pieces depending on the size of your design.
You will also learn how to finish off your work to a high standard, how to fire your pieces – there are 3 ways and how to give it a final polish.

Please read the full Terms of Booking, and particularly the REFUNDS policy within those terms BEFORE making your booking.