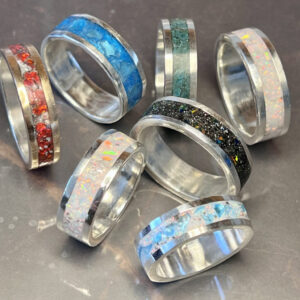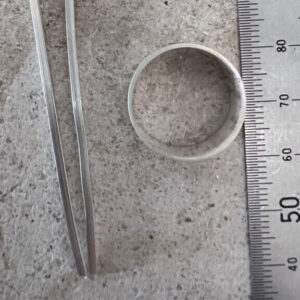 I am excited to introduce this new and informative workshop, where you will learn how to make a Sterling Silver inlay ring, set with crushed gemstones that are sealed permanently within the middle channel of the ring. This is then set, filed and polished to a high shine.
This technique is how commemorative jewellery is created and you have the option of adding a pinch or two of your loved ones ashes to the crushed gemstone layer, to be worn and cherished forever.
We will be showing you how to make the ring from scratch, learning silver soldering with gas torches and how to shape, file, polish and set your gemstone layer. It will be made to fit any finger of your choosing and be ready for you to wear home.
One of a kind jewellery, made by yourself with expert guidance every step of the way to create a beautifully coloured and uniquely sentimental ring.
Unlimited refreshments are included throughout, however you will need to provide your own lunch.
Suitable for intermediate students, or beginners with a steady hand!

Please read the full Terms of Booking, and particularly the REFUNDS policy within those terms BEFORE making your booking.